GRADES /
Middle School (Grades 5-8), High School (Grades 9-12)
Technology professional development for teachers and students with webinars and courses
Overview
SimpleK12 is an online professional development tool that incorporates teacher learning into a social platform, and promotes engagement by letting teachers accumulate points that they can trade in for rewards. The company also sells its own "toolkits," for say, dealing with student or handling paperwork.  . It allows teachers to create a profile, track their PD through a transcript of courses and outcomes, and access a broad range of content.
Teachers can communicate with one another through forums, upload resources to share with others and gain points as they participate in the community. They can redeem those points on the site for merchandise, memberships or content. The content is delivered through webinars, which cover a range of subjects from organizational skills to the Common Core.
Purpose: Engage, Learn
Primary Users: Teachers, Districts (300,000 individual teachers, 120,000 through districts)
Cost: $357 per teacher per year (SimpleK12 runs membership sales through their newsletter), Teachers can create a profile and access some content (a handful of webinars and resources) for free without a license, Site licenses for districts and schools vary based on size
Seeking Improvement: Pedagogy skills and Content knowledge
On-Brand Use: Watch webinars for professional development credit and participate in a professional learning community.
Platforms: web-based
Deal breakers: Teachers who cannot afford the membership fees
Types of Schools Using It: Statewide, to large top 500 school districts, to tiny private school
Product Brief
Value Added
The reward system of SimpleK12 provides motivation to maintain and continue to access and participate in professional development. A "leaderboard" is posted on the site to show whom the most active teachers are, and is based on experience points, "bunny bucks," webinars attended, resources shared, and posts.

Teachers can also manage their own participation through an exportable transcript, which provides data on things like training time, credit hours, webinars completed, and learning programs completed.

How does it work?
Whether teachers choose to access the site through a paid membership, or browse for free, they are encouraged to sign up and create a profile. The SimpleK12 personal profile includes basic information about yourself as a teacher, and has sections for personal conversations, public messaging, and collaborative learning with PD and the available tools such as plans created by teachers. Teachers can also access their transcript through the profile, which provides an overview and detailed summary of their completed professional development to date.
SimpleK12 aims to motivate teachers through earning "bunny bucks" (points), badges, and member rankings. The bunny bucks are earned when teachers participate in the community and can be redeemed for  merchandise or courses. Though all courses are free with a membership, teachers who do not have a membership can earn bunny bucks to buy a course they are interested in taking. The badges are awarded when teachers excel at something like participating in discussion boards or sharing resources. Badges include, but are not limited to:
Dynamic Discusser
Reliable Resourcer
Resource Buff
Webinar Warrior
Active Attendee
Webinar Watcher
Chief Collaborator
Constructive Critic
These badges correlate to the type of participation that teachers are engaging in, and can help lead to higher rankings. The rankings are novice member, bronze member, silver member, gold member, platinum member, and the highest: blue member. The more a teacher participates in the SimpleK12 community, the higher their ranking will be. Rankings help identify teachers who are more experienced with and participate more in SimpleK12's professional development, which can be useful for teachers looking for help or advice.
After teachers create profiles they can access the content on the site. Teachers can browse through a full course catalog of webinars, with over 1000 titles and 30 different categories, which are free for members and can be purchased or earned by non-members. The content on the SimpleK12 site is delivered through 30-minute webinars. The webinars are live training sessions, and recordings of these sessions can be accessed at any point.
Webinars
If a teacher has set specific goals, they can tap into a category and watch as many webinars as they feel will help them reach that goal. For example, if a teacher sets a goal of using more digital media in the classroom, the digital media tab has dozens of relevant videos.
SimpleK12 will suggest content based on your goal, but ultimately teachers are responsible for creating a plan for themselves. They can discuss with other teachers, search the site, and catalog relevant PD they want to participate in, in order to reach their goal. Teachers can also save webinars to watch at a later date.
These live training sessions usually consist of a Powerpoint presentation, although presenters can jump onto websites, pull up software, or share anything on their computer that they deem relevant. There are about 500 training sessions throughout the year, with the summer months being the busiest. After a live training session, the recorded session can be accessed through the webinar catalog.
The benefits to attending a live session include being able to interact with the presenter, asking questions, and participating in a back channel, which is a live discussion with all participants. The back channel discussion is designed to have teachers work together through collaborative note taking, in which all participants can access each others' notes. Live webinar attendees can also share best practices and resources through this discussion. The webinar ends with a Q&A session, in which all attendees are invited to ask the presenter questions.
Resources
The shared resources section includes "premium" resources from SimpleK12. These are ebooks created by subject matter experts. There are also thousands of free user generated resources including lesson plans, tests and quizzes, activity sheets, rubrics, and Powerpoint presentations. All of these are searchable by subject, grade, and resource type.
SimpleK12 also sells licenses to use toolkits for schools or districts to meet PD goals. The toolkit consists of 5-10 webinars on any given topic including things like new teacher training, bullying, and introduction to learning on the iPad. The toolkits are general groups of webinars in a certain subject area that the SimpleK12 experts deemed important. These experts include both employees of SimpleK12 and the presenters who are contractors who create webinars in their content area.
The shared resources section of the SimpleK12 has thousands of resources created by both SimpleK12 and the community. The premium resources are those created by SimpleK12, and are in the form of ebooks, and range from lesson plans, to teacher jokes, to trivia games, to creating a blog in the classroom. The resource section also has lesson plans, Powerpoints, presentations, and other classroom resources created by community members. Teachers can browse by subject, grade, or resource type. Each resource is ranked by other community members, who give it between 1 and 5 bunny slippers.

Resources created by other teachers can include anything that they use in any classroom. Teachers can upload lesson plans, worksheets, quizzes, games, images, Powerpoints, and more. The resources that teachers upload are free for all members and non-members. These resources are also ranked by other community members, and teachers can choose to contact the person who created and shared the resource to find out more information.
There are also hundreds of discussions on forums that SimpleK12's 400,000 community members can participate in. Members can ask questions or reach out for help from other teachers. One forum, school issues, has topics like "Facebook", "suggestions for online vocabulary', and "BYOD policies". Community members can start a topic or find a relevant topic and share their thoughts or advice.
The Available Forums Include:
Introductions (1380 posts, 160 topics)
Share Your Story - SimpleK12 Member Stories (121 posts, 8 topics)
Connecting on Blogs and Social Networks (680 posts, 141 topics)
Additional Opportunities to Get Involved (5 posts, 5 topics)
Lesson Planning (521 posts, 48 topics)
Professional Development (658 posts, 76 topics)
Technology Integration (997 posts, 150 topics)
School Issues (379 posts, 43 topics)
Special Education (147 posts, 21 topics)
Common Core (244 posts, 35 topics)
iPads & Mobile Learning (616 posts, 76 topics)
How is it used?
Teachers can sign up for SimpleK12 as individuals or a school/district can sign them up. In addition to the tradition PD webinars that teachers can watch for credit hours, teachers can utilize the community and social aspects. For example, a teacher in a rural area may be the only Spanish teacher in her school or district, so she can use SimpleK12 to reach out to other Spanish teachers for guidance. Another example, a fifth grade teacher from a school in New York can reach out to a fifth grade teacher from a school in Australia to do a cross-cultural joint online unit.

Schools or districts can sign up all teachers for SimpleK12, and use the site to implement training initiatives. SimpleK12 sets up a goal study analysis and goal plan for each larger client to help them reach their target for training. For example, districts can set a goal for improving their differentiated instruction or technology integration, and SimpleK12 will source materials from the site that can be assigned to teachers. 

SimpleK12 will help create assignments for teachers, provide toolkits of 5-10 webinars in a certain subject area, and help schools customize the training. Schools can upload their own webinars, Powerpoints, or PDFs to assign to teachers, and can add assignments and content throughout the year.

Additionally, districts can set up private discussion boards to facilitate conversation between teachers. These discussion boards can only be accessed by the set number of teachers, whether they are a group of teachers within the district or all teachers, and can be monitored by a chosen facilitator. Teachers can start their own discussion board within a school district, but cannot create a private discussion board for a small subgroup of teachers within the district without administrative access.

Administrators that are granted administrative access are able to access individual or group reports from their teachers if teachers are signed up through the district license. A superintendent may be able to see progress from all teachers in a district, and a principal can be assigned to access just the information from their school. If teachers join as individuals, they have to share their own progress with administrators.

Who's Using It?
SimpleK12 currently has a community of over 400,000 members from around the world. Though members are mostly teachers, there are also administrators, librarians, technology directors, and others who work with or around education.

As of Fall 2013 120,000 teachers have joined through a school or district license, and approximately 300,000 teachers joined individually. There are over 450 districts and schools with site licenses.

Districts include the Berkeley County School District, WV, Tangipahoa Parish School Board, LA, Clear Creek Independent School District, TX, Catoosa County School District, GA, and Livingston Parish School Board, LA. The company has also partnered with the State of Michigan to provide all teachers with access to the platform through Michigan LearnPort, available through Michigan Virtual University.
There is site licensing available, which provides access for all teachers under one system. Additionally, SimpleK12 works with these site licensees to help create a unique and relevant PD experience.
Content, Content, Content….
The content on the site is delivered through 30-minute webinars, and aims to be focused on practical knowledge that teachers can feasibly implement the following day in the classroom. Content is chosen in collaboration between SimpleK12's content team and the expert presenters based on feedback from the community and relevant topics.
The catalog of webinars cover a vast range of teacher and administrator needs including things like differentiated instruction, school safety, blogging, blended learning, and Common Core. Each webinar is delivered by a SimpleK12 presenter, who are experts in their content area through either research, teaching, conference presenting, or publishing, each hired by the SimpleK12 content team, and lead multiple webinars a year.
Training, Integrating, and Implementing
Training
There is no training involved when becoming a member of SimpleK12. However, an employee from SimpleK12 will help larger sites set up goals, assignments, and memberships as needed.

Integrating
Schools and Districts can assign individuals or groups of teachers webinars on the SimpleK12 site. Administrators can also access individual or group progress based on assignments. SimpleK12 does not have an open API but they offer licensing of their content to run in other LMS platforms.

Assessment and Data
SimpleK12 allows each teacher to track their progress through a transcript. The transcript includes training time, credit hours, webinars completed, and learning programs completed. Each item can be looked at individually, and certificates for each course or credit can be accessed and printed. Teachers can also save the transcripts as PDFS, print pages by date, and turn it into a principal or supervisor for credit.
Example Transcript:
Landmines
The cost can be prohibitive for some teachers, though a handful of courses and all of the teacher-shared resources are free for anyone with a profile.

Tech/Price/Credit
Tech
SimpleK12 is web based.
Cost
A year long individual license for SimpleK12 is $357, which gives you access to everything, although they often run discount specials through their newsletter, which can be joined from their site. Additionally, teachers can set up a profile, browse the course catalog, and access shared resources and a few select webinars for free.
District and school license costs vary based on the amount of people that are going to be participating and the training needs of that school. If districts need more assistance creating a plan with Simple K12, the license will cost slightly more, though the price is still heavily discounted from the $357 individual license.

Credit
Teachers can get CEU's by watching the webinars on the SimpleK12 site. One hour equals one CEU credit hour, so watching two webinars will provide one CEU credit.
Competition:
SimpleK12 is unique in that it combines a professional learning community with for-credit professional development. There are other PD offerings that provide similar content and webinars, and even communities including
edWeb
. However, the gamification of the learning and the extensive transcript tracking makes SimpleK12 unique.
EDUCATOR REVIEWS
Case Studies

+
---
Write a Case Study
Are you a teacher or administrator who has used this product? Be the first to share your experiences with others by writing a Case Study:
Summit Reflections

+
---
No Summit Reflections
(In Summit Reflections, educators review tools that they have seen at an EdSurge Tech for Schools Summit. Summit Reflections can only be completed onsite at the event; reviewers are incentivized to leave reviews.)
PRODUCT VIDEOS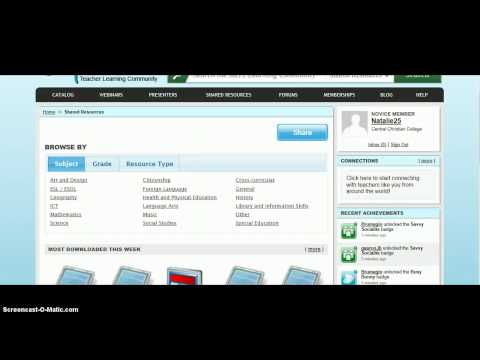 Audience
For Teachers
Characteristics
Academic Content
Anytime Anywhere
Asynchronous Modules
Content Repository
Instructional Skills
Online Course
Pedagogies
Professional Development
Scheduled
Social Network
Teacher Choice
Webinars
Subject Matter
21st Century Skills