GRADES /
Elementary (Grades K-4), High School (Grades 9-12), Middle School (Grades 5-8), Pre-K
PLATFORMS /
Web Browser, iPhone App, iPad App, Android Tablet App, Surface App, Kindle App
Personalized, digitally enhanced literacy and reporting platform for K-8 students
Overview
myON reader is a platform that offers a digital library of 7,000+ online books from over 50 publishers, including DK Publishing. Each title is "digitally enhanced," meaning that the system will highlight the text as it reads, and students have the ability to look up definitions. The platform recommends books based on the students' interests on categories such as fiction, non-fiction, and different subject matters.
Students take a comprehension quiz at the end of each title, as well as a benchmark assessment after reading several titles. The platform analyzes and interprets these results within the Lexile Framework for Reading, a widely-adopted reading metric, and displays them into a reporting dashboard for educators.
Todd Breakhus, president of Capstone Digital Solutions, shared in a May 2013 interview that myON Reader was used by over 1.75 million K-8 students across 2,800 schools.
myON Reader is also available as an iPad app.
EDUCATOR REVIEWS
Case Studies

+
---
Write a Case Study
Are you a teacher or administrator who has used this product? Be the first to share your experiences with others by writing a Case Study:
PRODUCT VIDEOS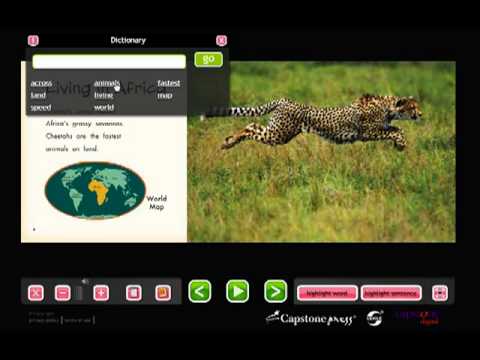 EDUCATOR REVIEWS
Teacher. School Type: Elementary School, High ELL Population, BYOD Devices
Teacher. School Type: Elementary School, High ELL Population
this introduction does not give me enough opportunity to review the form properly does this no chan...
PRICING PLANS
License
myON is an annual subscription, with pricing based on number of schools under the same contract. It also includes tiered pricing is available for multiple year contracts.
Can be purchased by School Leader or District Administrator.
TECHNOLOGY PLATFORMS
This product is accessible via a web browser
-- Requires Flash, Java, and Google Apps. Optimized for mobile browsers
This product is available as a native application on the following devices:
Android Tablet App
Download available at https://play.google.com/store/apps/details?id=com.capstonedigital&hl=en
Kindle App
Download available at https://www.amazon.com/Capstone-Digital-myON/dp/B00DQWC7EG
Surface App
Download available at https://chrome.google.com/webstore/detail/myon/jahdnkaoagdemliakgkedafnhlafpamg?hl=en
iPad App
Download available at https://itunes.apple.com/us/app/myon/id548056295?mt=8
iPhone App
Download available at https://itunes.apple.com/us/app/myon/id548056295?mt=8
Standards
Common Core Aligned
State-Standards Aligned
Audience
For Teachers
Characteristics
Digital Textbooks
Subject Matter
Reading