GRADES /
Elementary (Grades K-4), Middle School (Grades 5-8), High School (Grades 9-12), Higher Education
PLATFORMS /
iOS Devices, iPad, Mac, Windows
Interactive whiteboard and screencast recording app for iPads allows hand drawn graphics
Overview
Doceri is an iPad-based presentation tool that includes screencast recording, an interactive whiteboard, and hand drawn graphics and annotations. Teachers can control their desktop from their iPads, launching and controlling their Power Points or other presentation formats with the touch screen. Using Doceri's pen or highlighter tool, teachers can annotate important features of each slide. Teachers can create new slides and order them appropriately with the timeline-based editing system. Teachers can record these presentations for viewing at home, or they can use the digital whiteboard tool live in class.
Teachers can purchase the app for free from the app store and can remove the watermarks with in an in-app purchase of $4.99. There is a free trial of the desktop version, as well as a free upgrade for existing customers. Single seat licenses are available for $30, and multi-seat licenses are available upon submitting a purchase order to the company.
SP Controls was founded in 1995 by Paul Brown and Gary Arcudi, who developed and deployed their first smart panel 15 years ago at Stanford. Doceri is the "ultimate realization of the quest we embarked on when we started SP Controls - the quest for the "one remote" to simply and easily control all the devices in your classrooms."

The Doceri team is based in South San Francisco, CA. They released the original iPad app in 2011 and have plans to release the app on Android and Windows8/RT in Fall 2013. Since Doceri was released on the iPad, it has over 250,000 downloads as of October 2013.
EDUCATOR REVIEWS
Case Studies

+
---
Write a Case Study
Are you a teacher or administrator who has used this product? Be the first to share your experiences with others by writing a Case Study:
PRODUCT VIDEOS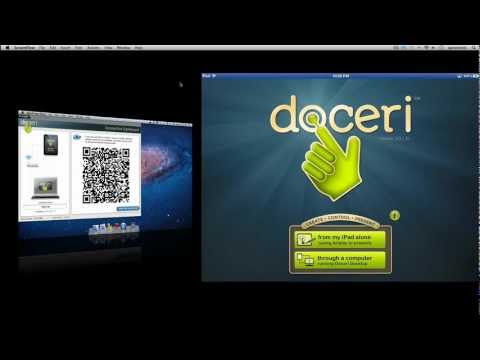 EDUCATOR REVIEWS
Science teacher. School Type: High School, BYOD Devices
School Type: High School, Low Income Population, College Prep School
1) iPhone compatible - Be creative with screen real estate and you can do this. Don't use the excuse that one cannot clearly see the presentation on the 4" screen. Make it work with pinch to zoom in and out or some other technique. Trust me that opening it up to phones as well will draw far more...
Audience
For Teachers
Characteristics
Authoring Tools
Gap App Challenge
Presentation Tools