GRADES /
Elementary (Grades K-4), Middle School (Grades 5-8), High School (Grades 9-12)
PLATFORMS /
Web Browser, iPad App
Offers ebooks & literacy and language tools for K-12 students
Overview
Big Universe is, well, a big universe ofK-8 e-books, including fiction and nonfiction across a range of subject areas,many of which are leveled according to common systems like Lexile and DRA. Bookscan be sorted by subject, grade and Common Core standard, and assigned tostudents directly through the system. There are also embedded quizzes relatedto many of the books, and naturally a management system that allowsadministrators or teachers to view quiz results and monitor students' readingactivity.
Big Universe has 500,000 members in 171countries. Standard pricing is $1500 for a one-year school license or $300 fora classroom, with multi-school, multi-year and per-student discounts alsoavailable. A subscription grants users access to more than 5000 e-books, abouthalf from about 30 different publishing companies, and half created by members.(Did we mention Big Universe is also an e-book publishing platform of sorts?The system makes it easy to type in or import text and pictures, or to pullfrom its clip art library. But don't get your hopes up, budding authors:e-books are only shared with classmates, your school, or the wider Big Universecommunity, not the Kindle Store.) Users can also "share" their bookshelves –not so much sharing the books (other than in the library sort of way, exceptyou never have to wait for someone else to return them) but sharing lists ofbooks a user has read or published.
EDUCATOR REVIEWS
Case Studies

+
---
Write a Case Study
Are you a teacher or administrator who has used this product? Be the first to share your experiences with others by writing a Case Study:
Summit Reflections

+
---
No Summit Reflections
(In Summit Reflections, educators review tools that they have seen at an EdSurge Tech for Schools Summit. Summit Reflections can only be completed onsite at the event; reviewers are incentivized to leave reviews.)
PRODUCT VIDEOS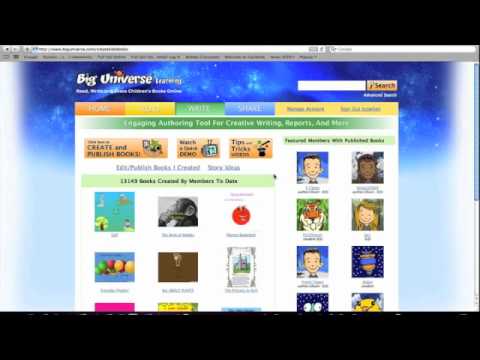 PRICING PLANS
License
Annual subscription to biguniverse.com
- Subscriptions are sold on an annual 12-month basis. The subscription includes 24/7 access to all students, teachers and parents in the school or district from any device and anywhere.
Can be purchased by Teacher, School Leader, District Administrator, or Parent.
TECHNOLOGY PLATFORMS
This product is accessible via a web browser
.
This product is available as a native application on the following devices:
iPad App
Download available at https://itunes.apple.com/us/app/big-universe-reader/id839640431?mt=8
Standards
Common Core Aligned
Audience
Kindergarten
Characteristics
Authoring Tools
Content Discovery and Curation
Digital Textbooks
Subject Matter
All Subjects
Language Arts
Reading
Writing