Developed by:
Globaloria
View All 7 Videos
Video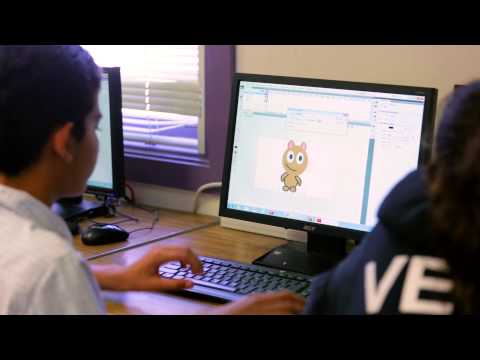 Video: Tech Awards 2013 laureate: Globaloria
Overview
Globaloria provides courses that teach 5th-12th graders courses in STEM, computing, game design and coding using industry tools and professional practices. The browser-based site offers schools Common Core standards-aligned courses containing 40-100 hours of game design and coding curriculum that leverage professional programming languages and industry-standard tools. Additionally, Globaloria has a customized learning platform, a learning management system, live and virtual support for users, and blended professional development for educators (for schools that purchase the Globaloria school plan).
Students learn to design and program their own educational games through a mix of teacher-led instruction, team-based learning, and online networking with experts and peers.
Globaloria is designed to be integrated directly into the regular school day as a stand-alone elective or as part of an existing course. Members can sign into their School Learning Platform, which integrates with additional platforms for teachers and staff-- the Professional Development platform (educators only), the Learning Management platform (educators only), and a Network Administration platform (Globaloria Staff). The School Learning Platform provides a space for the school to organize all course material, resources, and any digital textbooks. This platform contains a number of features, including a curriculum overview for Globaloria's courses (Game Design I-V, 3D Game Design, Mobile Game Design and Game Design Essentials).
Globaloria offers its services as part of a paid school plan. Interested schools must apply on Globaloria's site and provide comprehensive information about the school and faculty (including which faculty members can serve as Globaloria "facilitators"). An annual subscription fee includes a customized Digital Platform, Full Digital Course Curriculum, Blended Professional Development, and the Virtual Learning and Expert Support, including a live instructional and coding help desk. Globaloria costs $75/student/year; volume and multi-year discounts are available.
Globaloria was developed by MIT Media Lab and Harvard Graduate School of Education graduate, Dr. Idit Harel Caperton, in 2006. Globaloria endeavors to help students develop digital literacy, STEM and Computing knowledge, and global citizenship through game design. Globaloria has reached 17,500 students and educators, serving participants in 15 states: Alabama, Arizona, California, Florida, Georgia, Illinois, Louisiana, Maryland, New York, Ohio, Oklahoma, Texas, Washington D.C., West Virginia and Wyoming. 
Since its founding, Globaloria has won several awards. Globaloria has won the SVEF STEM Innovation Award, was named a "Laureate of The Tech Awards" in 2013 and received a District Administration Pick. Globaloria was also one of six products to receive an award from the National School Board for innovative work in 2013. Globaloria is a 2014 Google RISE awardee, the recipient of the 2014 CODiE for Project-Centered Learning, and a SETDA Emerging Technology Partner.
Reviews
Teacher
, School Type: High School, Low Income Population, College Prep School
Strengths: This product engages students in learning different subject areas by using the timetested technique of play. We always learn and retain information better when we enjoy what we do. The prod...
Suggestions for Improvement: Allowing students to code on mobile devices, such as Android and iOS, would allow for a far greater adoption rate due to most students possessing these, but many do not have PC access outside of the classroom. Reduce the per student price to allow for more schools and district to adopt the...
Feb 20, 2014Read Full Review
Topics
Summits